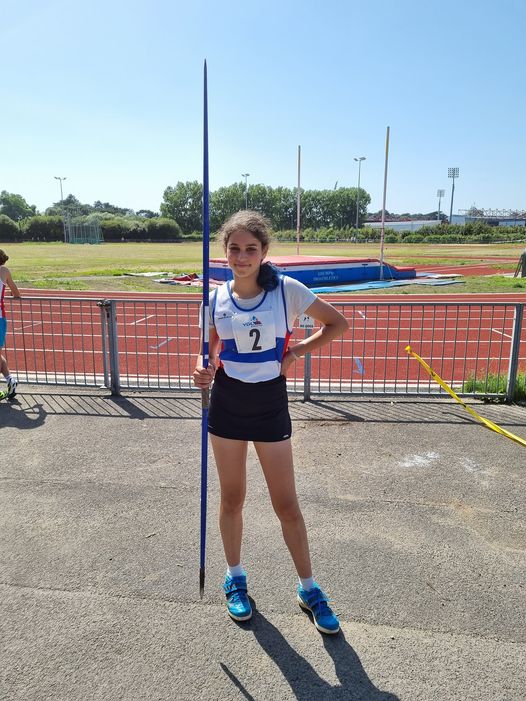 19 July 2021
Charlotte does it again - a new club record & praise as well!
Weeks after setting a new club record for the Under 13 Girls Javelin, Charlotte Pabari does it again with a throw of 34.92m at Oxford in the Wessex League. This moves Charlotte to Number 1 in the 2021 National rankings.
Charlotte's performance earned the following accolade from the Chairman of Slough Junior Athletics Club
Well done, Charlotte
I wanted to drop you a note to congratulate Charlotte Pabani on not only her fantastic javelin yesterday at Oxford in the Wessex League match but on her attitude and behaviours as an athlete.
I had the pleasure of leading the officiating team in the U13 girls javelin yesterday. I had also led the team in the first round of the WYAL at Salisbury when Charlotte impressed me again not only in setting what was then a new PB but with the polite, enthusiastic, engaging, and above all her most respectful approach towards the sport, her fellow competitors and the officials.
I saw exactly the same again yesterday at Oxford. Although throwing some 15+m further than anyone else in the competition Charlotte showed each and everyone of those in the field complete respect and was an absolute role model to all. In her throwing she realised she had done well but took nothing for granted and gave her very best. When I announced the distances she was clearly and rightly delighted but showed no arrogance – just "job well done".
I spoke with her father afterwards and shared my thoughts and thanks.
As a club we have a number of awards presented annually. One of these is called "Spirit of SJAC" and is awarded to the athlete who represents what the club stands for. It is not about performances in competition. It is about attitude, commitment, behaviours. To me and a number of others it is the most converted award presented annually (and actually if we do not believe there has been a worthy recipient it is not awarded). I can say without hesitation were Charlotte a member of SJAC she would be a most deserving recipient.
Congratulations to all involved with Charlotte, we wish her and those surrounding her in her development all the very best.
Please stay cautious, keep safe, fit and healthy, respecting the health of others
Conrad J Rowland
Chairman
Slough Junior Athletics Club